The knowledgeable, talented members of the G Team are experienced problem-solvers who parachute in to share their individual expertise.
Mary Lou Gazeley leads gazeley+gazeley and the G Team with years of experience and an award-winning career in marketing public relations and strategic planning. She brings her enthusiasm for business to the entire strategic planning process for both the private sector and not-for-profit organizations.
As former co-owner and principal of a globally-affiliated Vancouver-based PR agency, she knows the value of internal and external communications within strategic planning, the importance of risk management, the critical need for crisis communication planning, and the value of executive spokesperson training.
Mary Lou also brings direct board experience including leadership roles in governance, strategic planning and crisis management to her work with the not-for-profit world.
Deborah Louvier – Change Management. As a member of the G Team, Deborah makes the critical connection between strategic concepts and execution and between people needs and business needs.
A specialist in change management, Deborah guides both private businesses and not-for-profit organizations facing evolving business strategies, ownership changes, leadership issues, family business re-structuring and operational demands.
Deborah draws on diverse international experience in human capital strategies and operational management in China, the Middle East, India, Canada and the U.S as a trusted advisor to companies such as Dominion Construction, Mark Anthony Group, Kasian Architecture Interior Design and Planning, and MacMillan Bloedel.
Harold (Hardy) Forzley, Financial Consultant brings clarity to the important financial component of a strategic plan.
As a Chartered Accountant with some 30 years of experience in the field, he develops well-structured business plans, analyzes corporate structure and provides an objective view of the financial picture.
Hardy has been a financial advisor to a wide range of industries in Canada, the U.S., Mexico and Australia. He has raised capital for start-ups, advised on operational structure, led the initial public offering process and guided strategic direction based on financial best practices. As a former auditor with a large accountancy, Hardy is always able to follow the money.
Christopher Molineux, Communication Specialist, has spent the last 28 years bringing together the worlds of comedy and communication from sharing the stage with Robin Williams, Jim Carrey, Ellen De Generes, Seth Rogan, Jerry Seinfeld and Russell Peters to being the voice for the 2010 Olympics Opening Ceremonies.
Christopher has worked as a public speaking and communication skills coach for LG, Raymond James, TD Canada Trust, Fasken Martineau and CGA-BC's Advanced Leadership Program. He coached Coca Cola's Olympic site and torch teams and in 2013 he was a featured speaker at TEDx Vancouver and a presenter at the 8th Annual Conference on Imagination and Education.
Peter Gazeley — Product Development and Merchandising Specialist has traveled the world to bring luxury products to the retail, wholesale, and showroom trade sectors focusing on both B2C and B2B.
Peter looks at every merchandising challenge through the lens of a designer, an international buyer, a retailer, a showroom owner and manager, and a manufacturer bringing invaluable experience and creative approaches to client's challenges. Known for his depth of knowledge in the furniture industry, Peter began his career in the men's clothing business and still knows the cut of a good suit.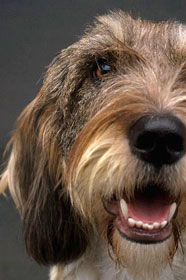 Josephine (Josie) — W.A.G. (Welcomes All Guests). Brightens our days, reduces stress, fosters creativity and uses four-legged pooch power to remind us to paws.